Country
Reconstruction works in Karabakh in spotlight of French media
French historian and journalist Alain Roumestand, who visited Azerbaijan, has posted his article headlined 'Return to Karabakh: Azerbaijan starts implementing broad reconstruction plan' on the Causeur portal.
The Diaspora Committee told Report that the article says the first thing foreign travelers see upon arrival at the Heydar Aliyev International Airport is the board writing 'Karabakh is Azerbaijan!'
The author notes that in September-November last year, Azerbaijan managed to put an end to years of occupation of its lands.
The article reads about the harmonious functioning of mosques, synagogues, Orthodox and Armenian churches in Baku and notes the destruction in the areas liberated from occupation. It speaks about the anti-mine works in the liberated areas and stresses that civilians, including journalists, die due to Armenia's refusal to present all maps of landmines.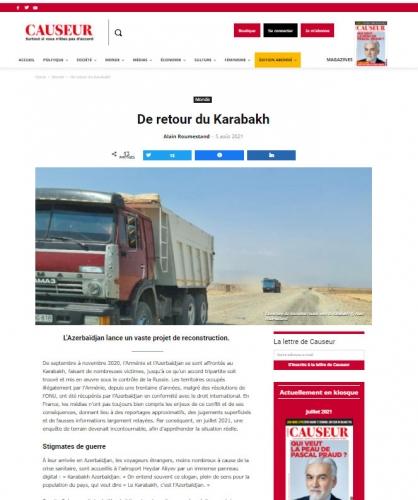 The article also features the construction of new infrastructure in Karabakh, the launch of reconstruction works in Shusha, the return of the shelled busts of genius Azerbaijanis, including Khurshudbanu Natavan, Uzeyir Hajibeyli, and Bulbul, the visits of numerous representatives of foreign countries to the ancient city of Shusha.
The thoughts expressed by the chairman of the State Committee for Diaspora Affairs Fuad Muradov, former ambassador to France Elchin Amirbeyov, and other persons were also published in the article.
Notably, the article by French historian and journalist Alain Roumestand, who visited Azerbaijan at the invitation of the State Committee for Diaspora Affairs, caused outrage among Armenians. An article posted on Armenia's https://www.armenews.com/ headlined 'Two French promote Azerbaijan' makes libelous claims that Alain Roumestand and Gregory Herpe 'permanently work for Azerbaijan.'